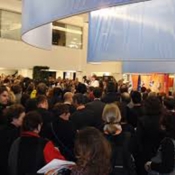 There is a perceived need to foster awareness about climate change in schools and universities and to engage young people and future professionals in the search for local solutions for a problem with has global dimensions. Yet, although much is written and spoken about climate change at scientific circles, little information filters through other levels. In particular, the comprehensive body of information and knowledge on matters related to climate change may be very useful in educating future generations, but it is seldom used. Since much can be gained by using scientific information to foster the debate on climate change at schools and universities across Europe, the "Latin American Climate Teach-In Day" will be organized.
The aims of the "Latin American Climate Teach-in Day" are:
to disseminate scientific information on climate change in Latin America in a way that allow is to be broadly understood, including elements related to its environmental, social, economic and policy aspects to schools and universities around Europe and Latin America;
to raise awareness among university students on the complexity of matters related to climate change and the need for personal engagement and action;
to provide an opportunity to introduce projects and other initiatives being undertaken at the international but also at the regional and local level by universities, research agencies, government bodies, NGOs and other stakeholders;
to discuss the problems, barriers, challenges and chances and potentials related to climate change both in the local and regional level but also globally.
Last but not least, the The "Latin American Climate Teach-in Day" is meant to encourage more networking and information exchange among participants and hopefully catalyse cooperation initiatives and possibly new projects.
Website : http://latinamerican-climateday.net/
Event Date:
12/12/2013 -

09:00

to

19:00